Working with Candid Photos
Candid Photos are uploaded on the Photos page of the software, and are then available on the Candids tab. When you first click on the Candids tab you will see the photos that are located in the same folder as the name of your section. Use the Folder menu to choose a different folder of photos.
To replace an existing photo, simply drag a new photo onto it.   You can also click the Add Image Frame button 

on the main toolbar to add a new frame to the page. Then click on a photo, and drag and drop it onto the new frame. In addition, you can simply drag a photo from the Candids tab to any empty part of the page, and then release it.
Once you have an image in your frame, you can do the following:
Click and drag on an image frame to move the photo around on the page.

Click and drag the handle on any corner of an image frame to scale the image.

Click and drag the handle on the top or side of any image frame to crop the image.
Auto Fill
Click Autofill to automatically flow photos from the current folder into the image frames in the section.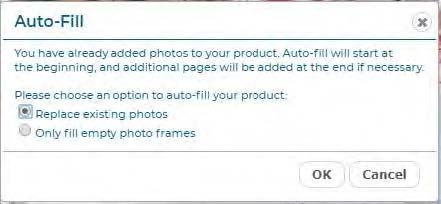 You will have the option to Replace the existing photos, or to Only fill the empty photo frames. Click the button next to your selection, then click OK. Photos will be flowed throughout the section until there are no more photos, or no more frames.
TIP: For more things you can do with Photo Frames please refer to the other articles in this section.