Adding a Text Frame
To add an empty text frame to your page, click on the text icon in the top right corner.

A new text frame will appear on your page in the default font (Open Sans) and color (black).
Sizing & Positioning Text Frames
Text frames may move be moved and resized freely, and will magnetically align to other frames and page guidelines.

Select and drag text frames to move them and spin them using the rotation handle. Text frames are resized on their width; the length of the frame adjusts to accommodate the text within it

To learn more about frame alignment, positioning and order, consult the Understanding Frames article.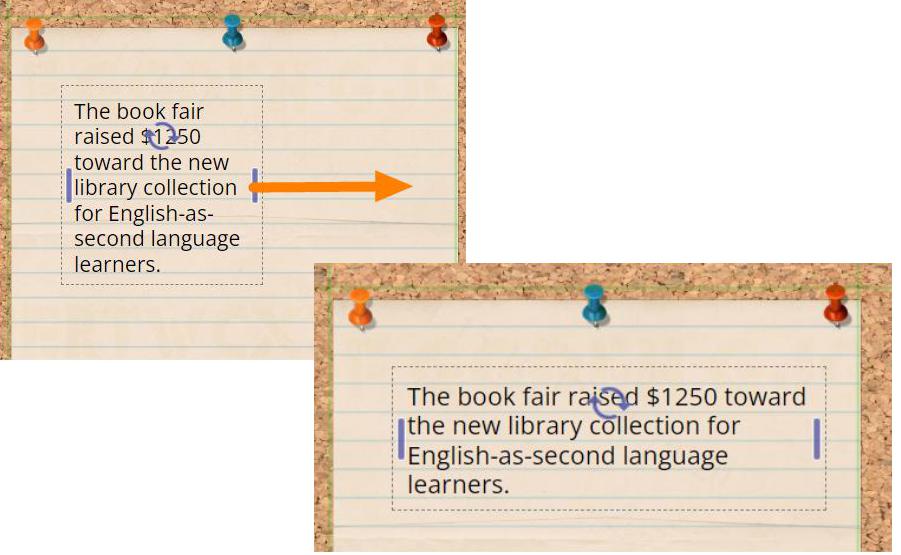 Formatting Text
To customize your text, select the text frame, then click on the Text tab in the top menu.

The Text editor will appear, where you can type your own text in the box at the top.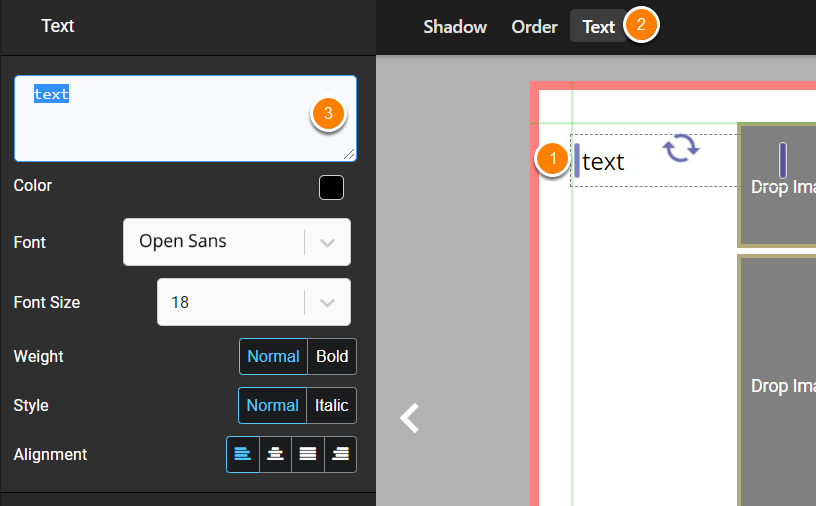 All text within the frame will have the same attributes (font, size, color, etc.).

Note the text box may be resized by dragging on its corner tab.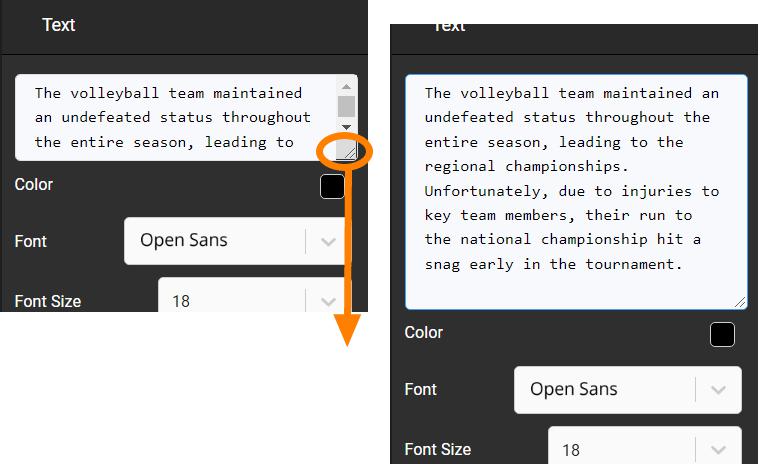 Font Style and Size
Use the Font dropdown to change styles. (See the complete list of Memento fonts.)

Use a font size preset or type a custom value – hit return on your keyboard to finalize.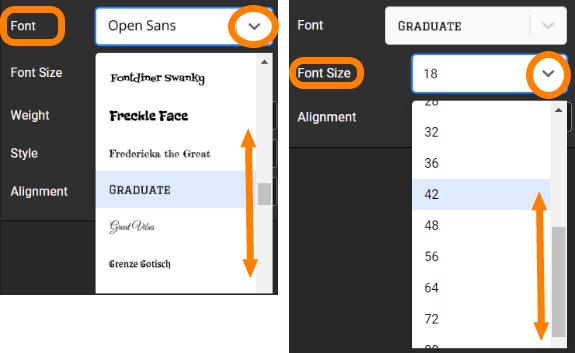 Font Color
Click on the color chip to select a new color from the color editor.

Note that the color editor includes an opacity slider (under the rainbow gradient) to create translucent text.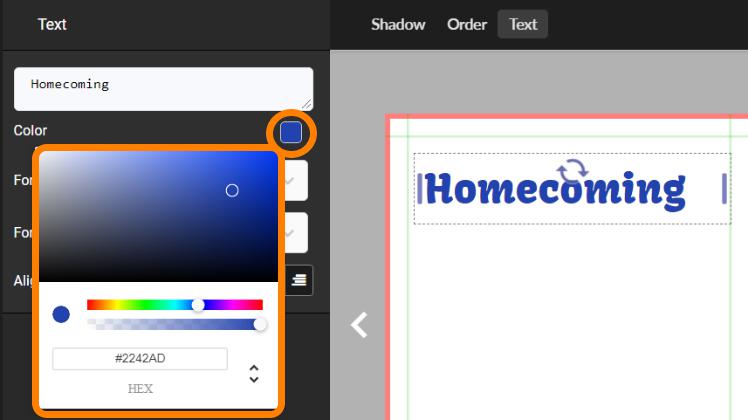 Text Alignment
Choose among left-aligned, centered, justified or right-aligned text. Rule of thumb: only use centered text for short titles, never for paragraph text as this is very hard to read. Choose left or full-justified text for photo captions and paragraph text for best legibility.

Text Shadow
To turn on a shadow effect, select one or more text frames, then click on the Shadow menu option on the top menu. Turn on the shadow toggle.

A default soft black shadow will be applied to the selected frame(s).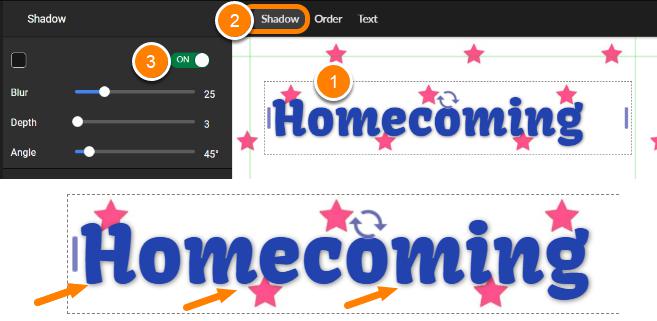 Adjust the shadow color by clicking on the color chip, to access the color editor.

Adjust sliders to change the blur level, the depth of the shadow and its angle.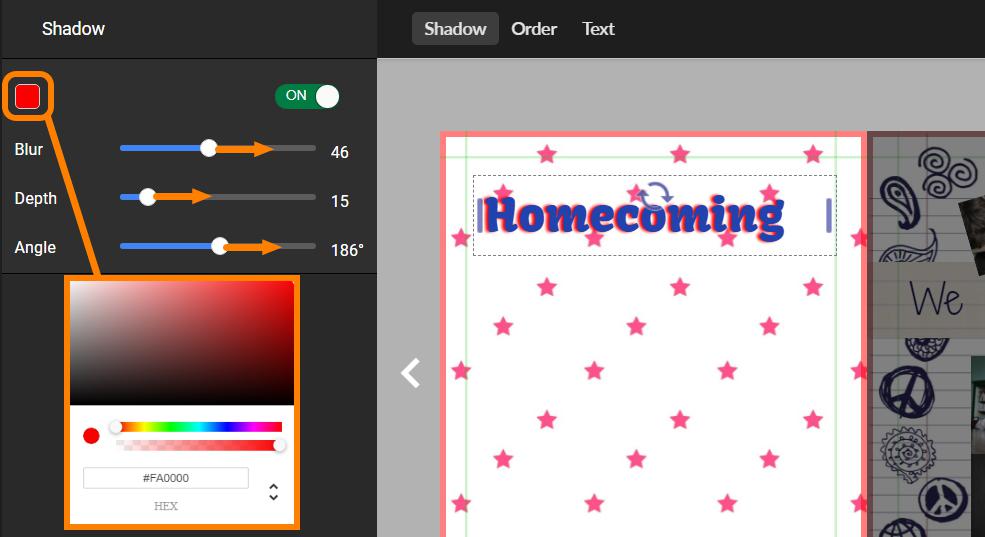 Shadows may be used to create a variety of effects.

Increase the blur while reducing the depth to create a diffuse glow effect.

Decrease the blur, increase the offset and adjust the angle to modern hard edge effect.

Use the default settings for a classic stacked image look – double-click on any slider to reset it to the default value.

(Memento does not yet have a stroke / edge effect for text.)


Text Container
While Memento does not have specific tools to add a box around text frames or place a contouring stroke around the frame's edge, it does let you use shapes creatively to create containers for your text.

Text frames will snap tidily inside a shape frame, or may be overlaid creatively.

Keep in mind that shapes may be bordered, shadowed, and contoured, and that their fill opacity may be reduced to allow the background to show through.

Learn more about shapes.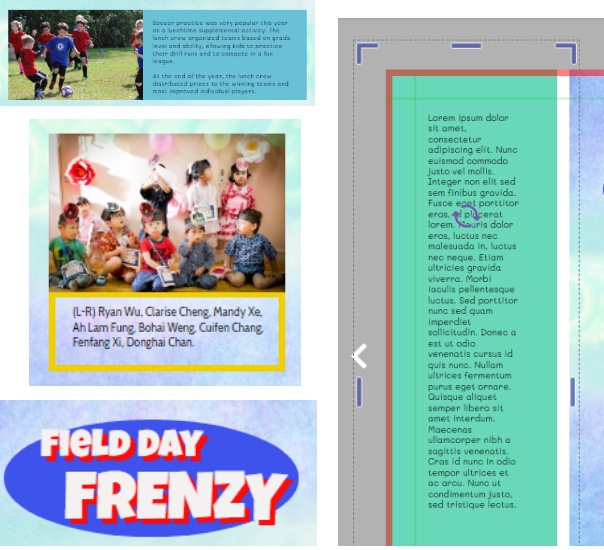 Alternatives to Text Frames
Memento's text features provide basic text features. If you are interested in more decorative titles, explore the following resources to replace text with graphics.
Decorative Alphabets
The Studio Source Catalogue contains many decorative alphabets and numbers. Each character is saved as a separate png image file to drag & drop onto your canvas.

Look under the Categories area for Decorations > Letters and Numbers to find them.
Portrait Page Title Graphics
Under the Elements tab in the editor, Memento includes several collections of Header graphics, suitable for portrait pages and other uses.

Note that these graphics may not be customized as they are image files.

The collections include standard grades plus Staff, High School alternative titles (eg. Sophomores), and other variations.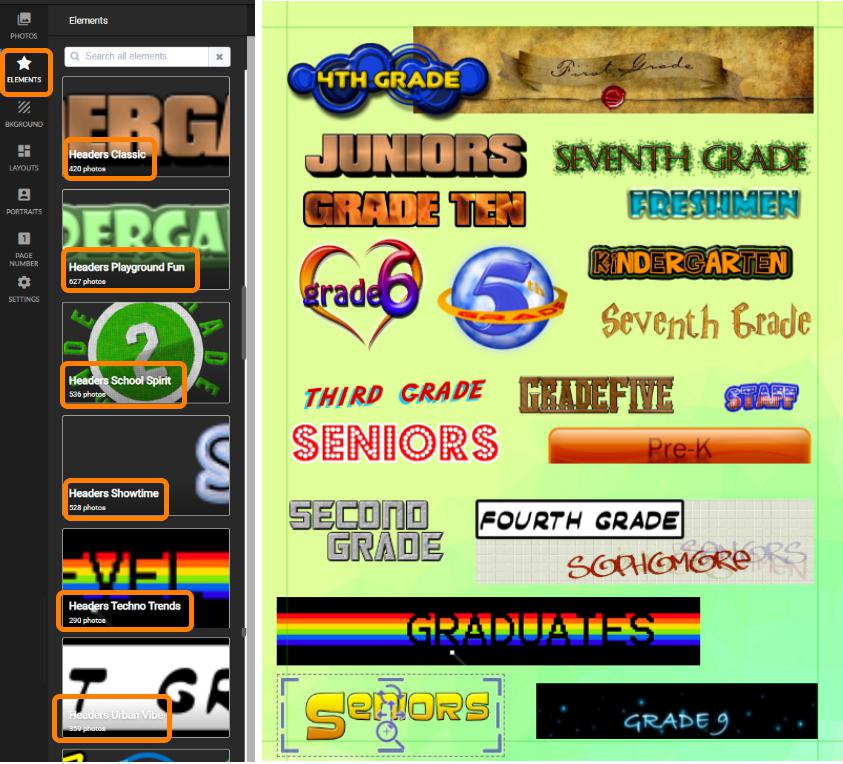 Online Word Art Tool
Consult the Additional Resources & Tools article to learn about a suggested online tool to generate custom png word art.