Premade Layouts
Single Page Layouts
Layouts are predesigned pages composed of empty image frames, shapes, backgrounds and text.

Find them under the Layouts tab in the editor, organized into thematic page collections.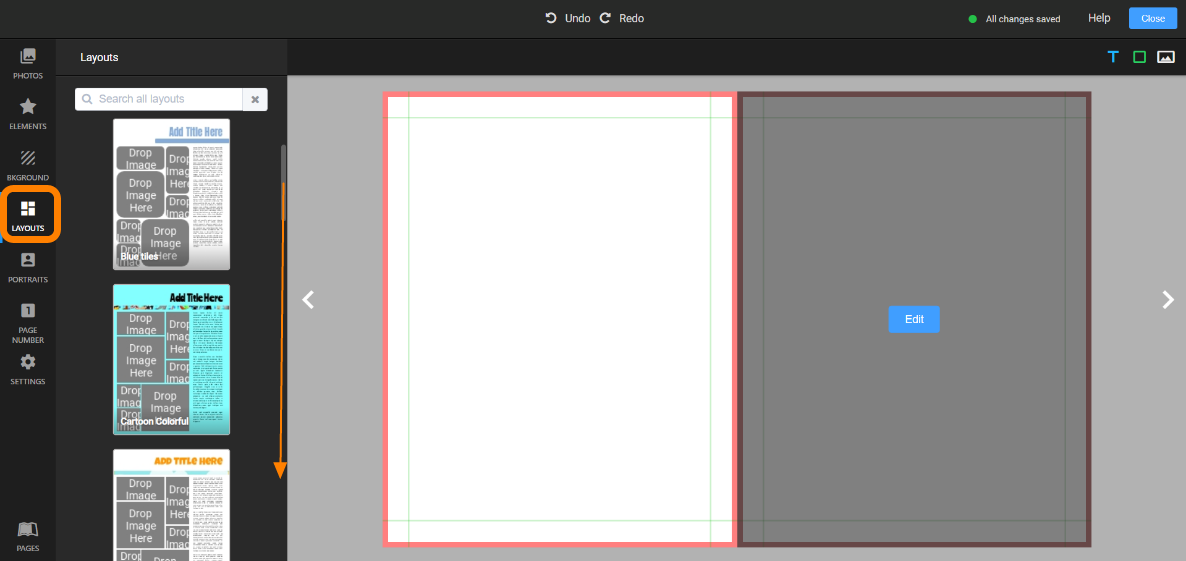 The layout collections include a variety of styles:

Coordinated designer themes (eg. Chalk Doodles, Comic Heros, Jeans, Varsity);

General collage grids;

Sports by type;

Activities & events (holidays, clubs, etc.).
To apply a layout to your active page, simply click on it.

If your page is blank, the layout will be added exactly as shown in the preview, sized to fit your page. Drag photos from the Photo tab to fill the empty frames. (Auto-fill is not available.)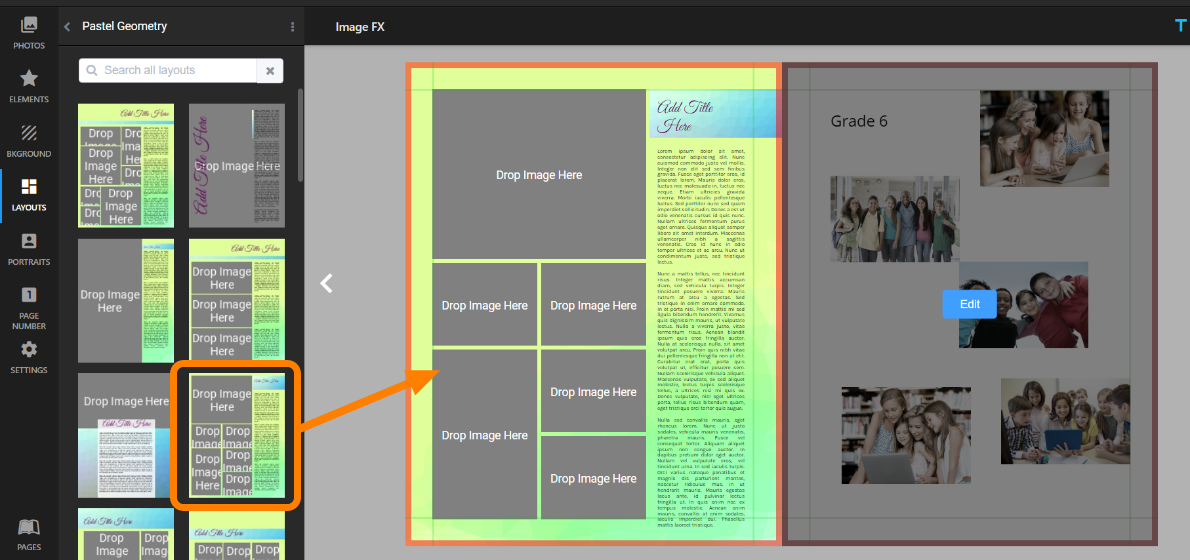 If the page has photos and text on it, this content will transfer to the applied layout.

A warning will appear if any existing content could not be applied to the layout for lack of available frames.

(If you need to remove a layout just applied to your page, use Undo over the page (or use Ctrl-Z on Windows / Cmd-Z on Mac) to undo the layout application.)


Each layout collection contains a style guide on the last page of the collection.

Apply this to a blank page in your book, to copy/paste backgrounds, colors, and font options to other pages.


Cover Layouts
When the cover page is opened in the editor, the Layouts tab will only display collections of cover templates. These layouts are designed to cover both sides of the page.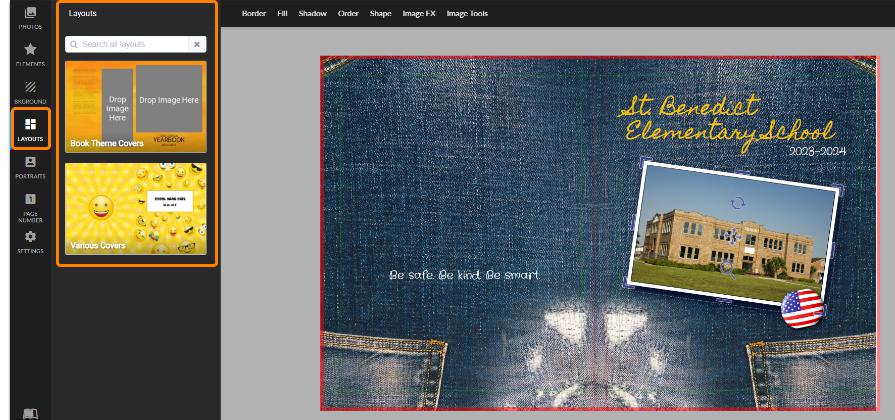 Creating Your Own Layouts
Memento Yearbook does not have the ability to save custom layouts, but you may duplicate pages on your book ladder then move them in position.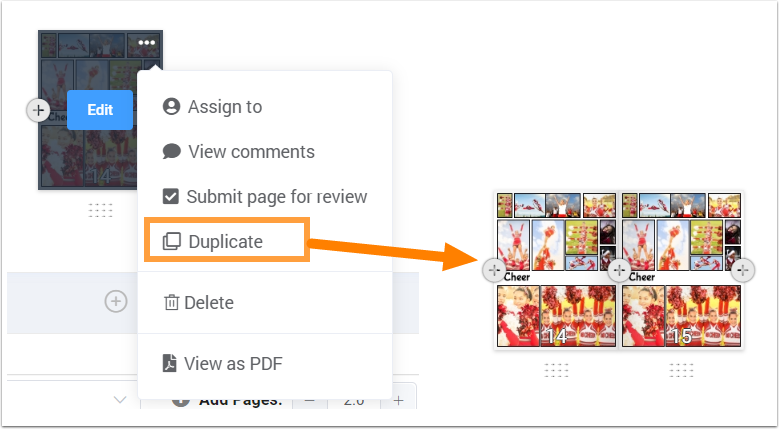 Open the duplicated page in the editor to add new images, text and other customization.

You can duplicate a page containing images – simply swap out the photos on the copied pages – or build your own layout using empty image frames and placeholder text frames.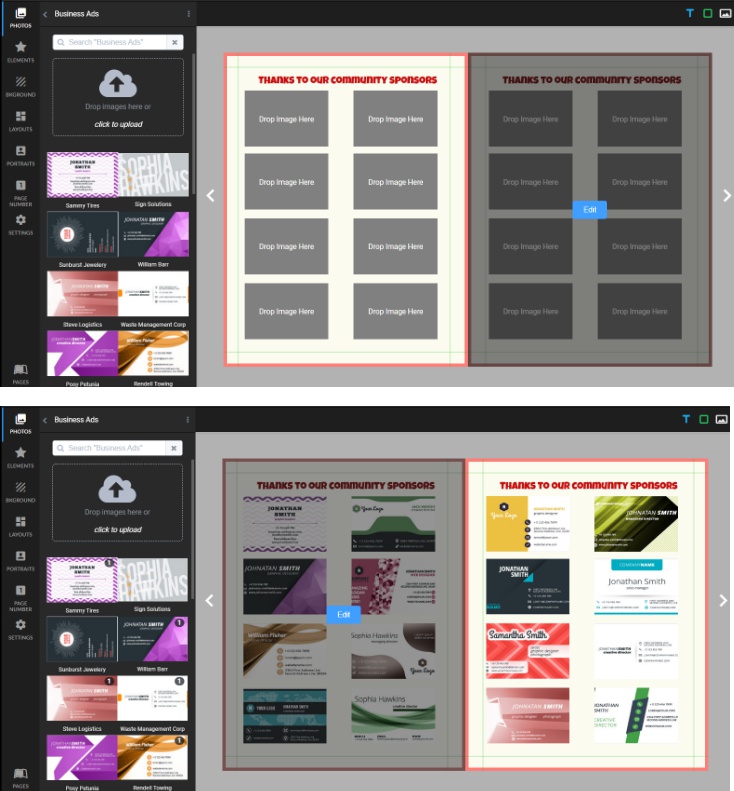 Create a template grid using the Image Tool's Splitter to divide a single large frame into even-sized frames.

This technique is particularly useful for creating layouts for senior dedication pages presized for 1/8, 1/4 and 1/2 page formats.


Decorations
Clipart
Memento's Elements Collection
Click on the Elements tab in the Editor to access decorative embellishments.

Click into any of the thematic albums to view the clipart collection.

Decorations have all the same options available as any other image. Learn more here.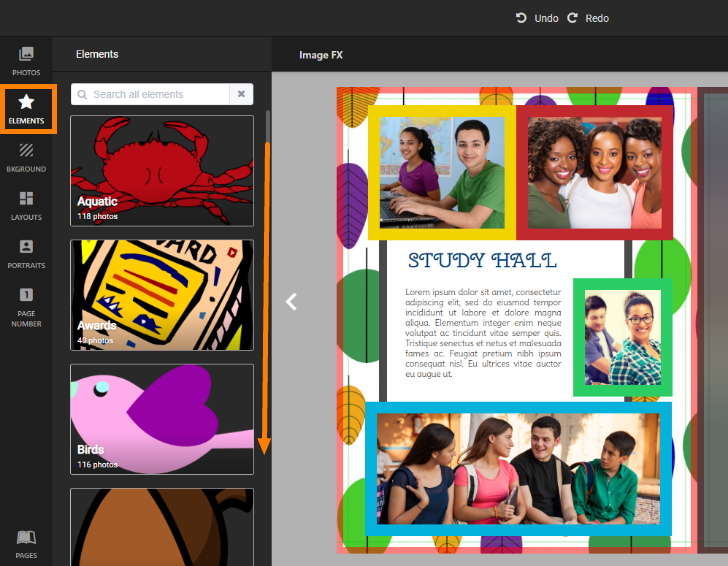 To use a decoration your page, simply drag and drop it into place.

Use the search box to locate a specific type of decoration, either within a folder or searching the entire collection as a whole.




Note that some elements in the collection are solid colored, specifically to allow color shifting under the Image FX tab.

A video tutorial is available under the Image Frames article to demonstrate how you can recolor elements as well as backgrounds using hue-rotate, brightness, saturation, contrast and other Image FX settings.




The Studio Source Catalog
Access thousands of cliparts for free via the Studio Source Catalog. Set the Size/Type filter to Clipart Sets to focus only these types of decorations.

The collection may be searched by keyword, or explore it using categories, colors, and style attributes.

Learn more about the Catalog.
Using Clipart Effectively
Clipart may be used as small-scale decorations to fill empty spaces or as decorative highlights. Use clipart to create a theme for your page, section or entire book.

Keep in mind that your school photos should be the star of the page, and too many decorations may be distracting.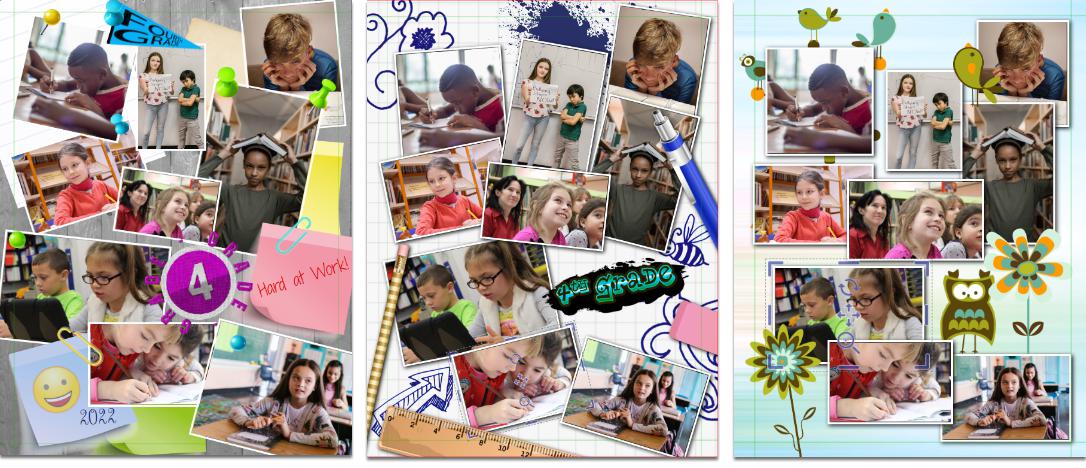 Clipart may also be used very effectively as bold, large-scale elements on your page.

Theming your book with fewer larger elements will give it a professional look.
Try combine clipart and shapes to block out your page into regions.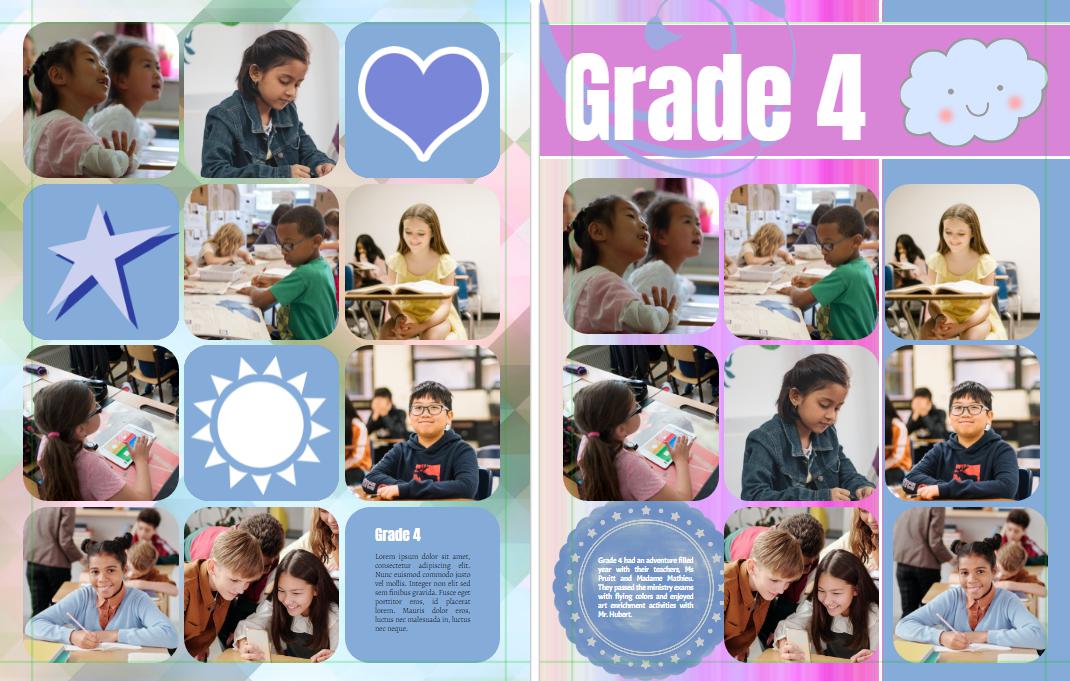 Clipart Resizing Issues
Resizing clipart can be a little tricky. To resize proportionately, hold the Shift key down while dragging on a corner handle.

Be mindful of clipped edges caused by resizing out of proportion. Adjust the height or width of the frame to expose the entire graphic, then use the Shift+corner handle technique to resize the clipart.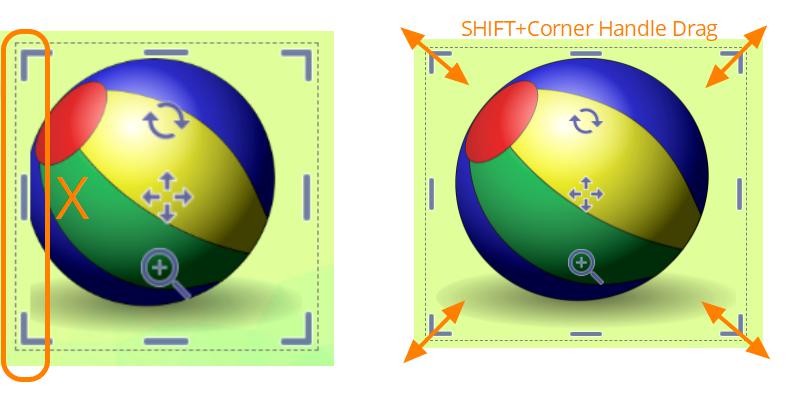 Custom Clipart
If you would like to design custom clipart, follow these recommendations:
Resolution:
Standard clipart: 900 pixels wide/tall (whichever is largest).
Clipart spanning the width of your page: 2625 pixels on its width.
Clipart spanning the height of your page: 3375 pixels on its height.
File Type: PNG with a transparent background. Be sure to crop the image within a few pixels of the image content on all sides, as it will be hard to select other items on your canvas if your clipart has large transparent areas bordering it. Note that JPG files cannot display transparency. If you save clipart as a JPG, it will display a white background around the image content.
Backgrounds
Adding an Image to the Background
Any JPG image may be used on the canvas background.

Locate an image under a Yearbook Photo Album collection or Memento's Background tab. Click onto it to cover the entire canvas.

(If you need to reset your canvas to white, simply use the Background tab's color chip, shown below, to remove the photo.)
Solid Color Backgrounds
To add a solid color as your background, click on the Background tab in the editor, then click on the color chip. Select a color, shade and level of transparency – the canvas will immediately update.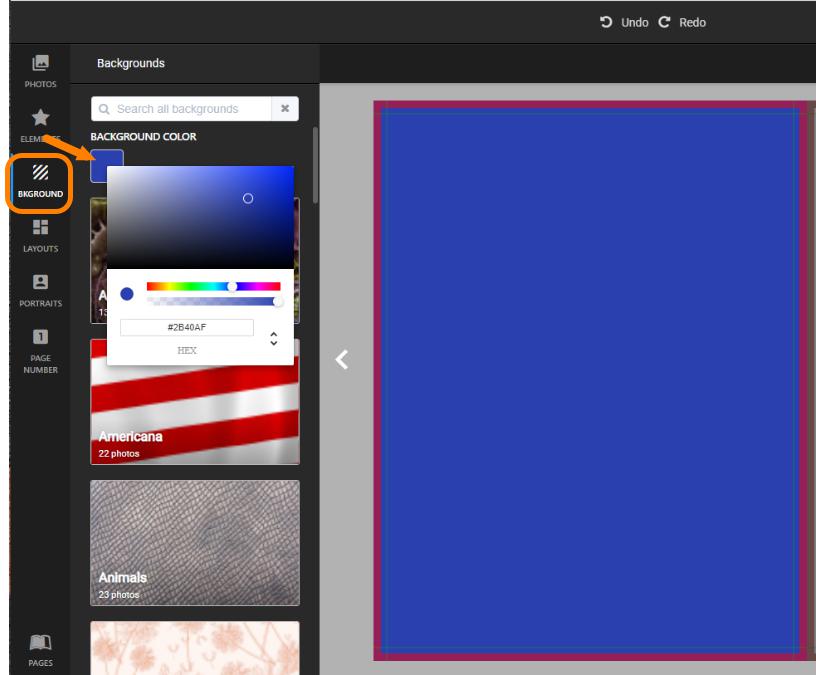 Repositioning the Background Image
The background is clamped automatically to fill the entire canvas to its maximum capacity. You can, however, reposition or zoom in on an image applied to this frame.

Double-click on the background to make the pan & zoom handles appear.

Pull up/down on the magnifier to adjust the zoom level, click down and drag on the pan handles to reposition the image within its frame.

Learn more about pan & zoom.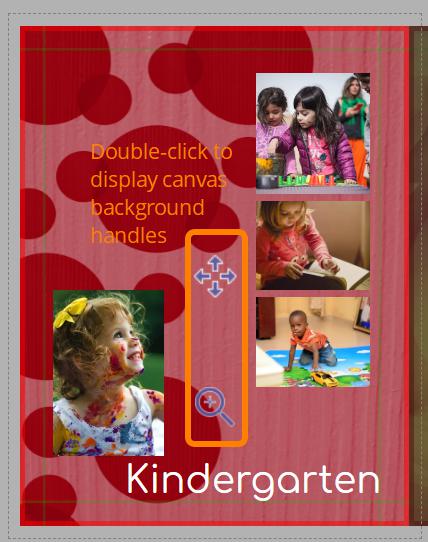 Retinting a Background Image
Background images may be color-tinted.

First, apply an all-over color to the background before adding an image.

Next, add an image to the background. The color will seem to have vanished.

Last, select the background and click on the Image FX tab. Move the Opacity slider down to reveal the color through the image.
Flipping a Background Image
The background image may also be flipped horizontally and vertically. This is useful to create a mirror image effect on adjacent pages.

Click on the background, then access the Image FX tab to get to these options. Learn more about flipping images.
Other Background Effects
The Image FX tab includes other options to customize may aspects of the image on your canvas. Learn about these color and light effect in the Image Frames article.

One feature to note is the Hue-Rotate Slider, which enables multiple color variations to be created from a single background image.

Add the same image to multiple pages, select the background then adjust the slider. The overall color gamut will shift, giving variations on a common theme.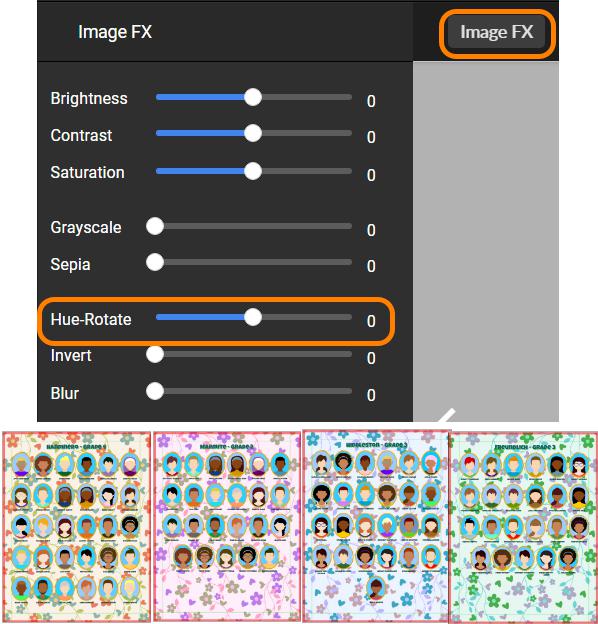 Background Collections
Memento Yearbook includes a collection of single page backgrounds.

In addition to adding the backgrounds to your canvas frame in a single click, you can also drag backgrounds to use as a decoration.
The Studio Source Catalog offers a vast collection of single page, double page and cover backgrounds. The collection may be searched by keyword, or explore it using categories, colors, and style attributes.

Backgrounds may be downloaded individually, or as matching bundled collections, then uploaded to a Yearbook Photo Album to use in your book.

Learn more about the Studio Source Catalogue.


Custom Backgrounds – Size/Format
If you wish to create a custom background image, we recommend a file size of 2625 x 3375 pixels (8.75 x 11.25 @ 300 dpi). Save the file as a JPG then uploaded it to a Yearbook Photo album.
Note: do not create full-page flattened layouts in an editing software using these settings. These are the dimensions for a background set to full-bleed edge and do not account for inset margins.