Decorating Portrait Pages
Portraits pages may be decorated with color, photos, backgrounds and shapes. When decorating your portrait pages, always keep label legibility in mind. The portrait images should be the focus of the page, and the labels should be kept free from distracting elements.

When adding decorative elements to your page, use the Order menu to send them to the back of the page, behind the portrait grid.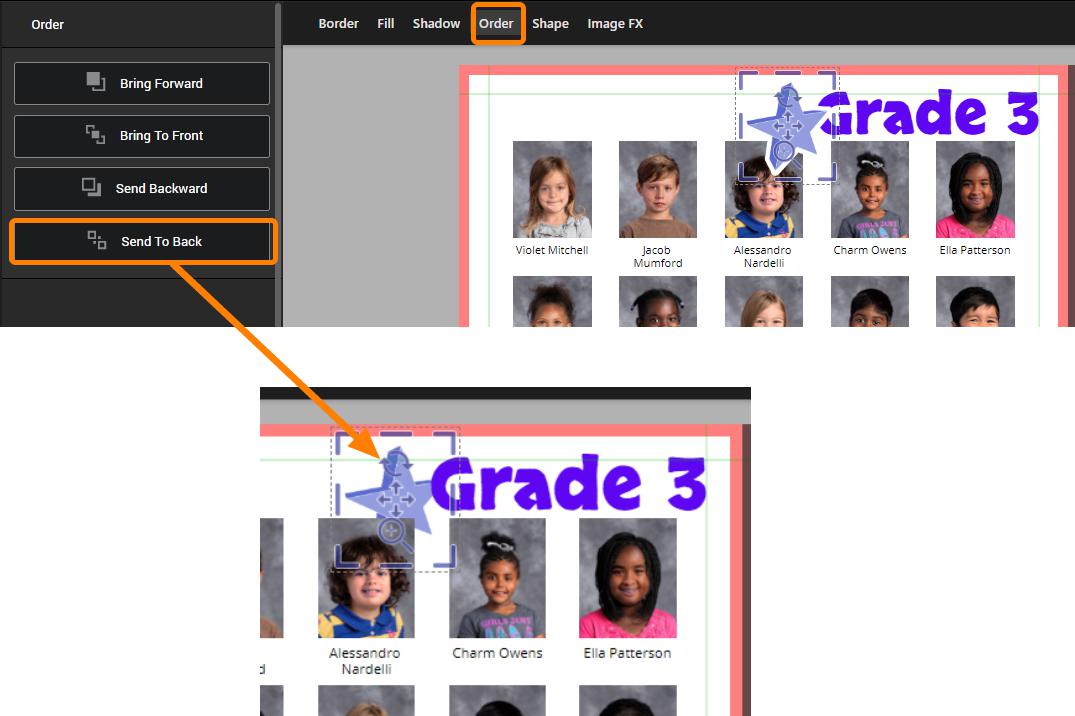 Backgrounds
Be very mindful of the background you choose for your portrait pages, ensuring that all labels remain readable on every page.
Choose matte, unshadowed textures, so that labels can stand out.

Textures that have variable light and dark areas make it difficult to select a label color that stands out on all areas of the page.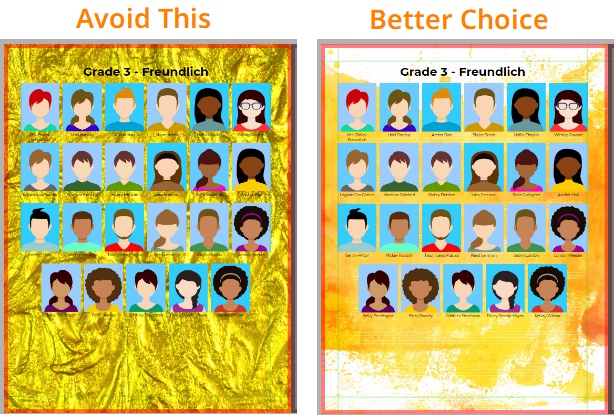 Avoid high contrast background. If a labels fall on all light, all dark and mixed areas, getting the labels to uniformly stand out will be impossible.
If you choose an illustration or photo background, make sure the area covered by the portrait grid is uncluttered. Images directly under the portrait grid is very distracting.
A pattern can be used, but choose tone-on-tone rather than a high-contrast or very colorful design.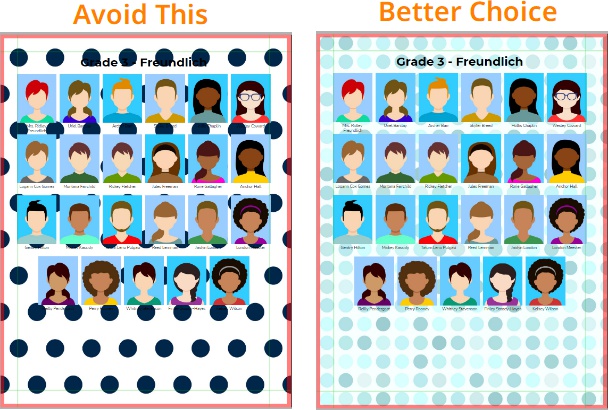 If choosing a gradient, block off the portrait grid with solid color to make the labels stand out.

In this example, a solid black background was added behind the portrait grid, allowing a single label color to stand out.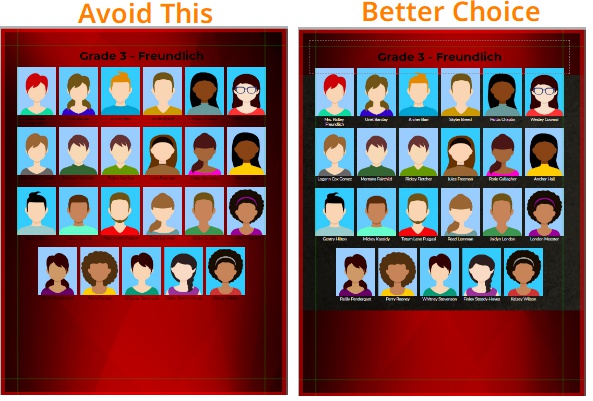 Try color-blocking with backgrounds and shapes. Backgrounds may be added to image frames, with borders added to their edges.

Overlay a shape on to the background to defined your portrait grid.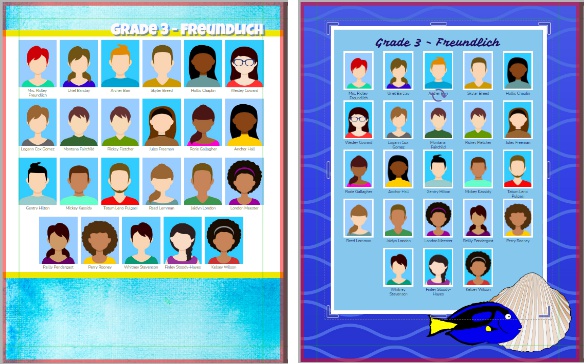 Combine margins & knockouts to create space on your portrait pages. Backgrounds and photos may be added to image frames in this empty area.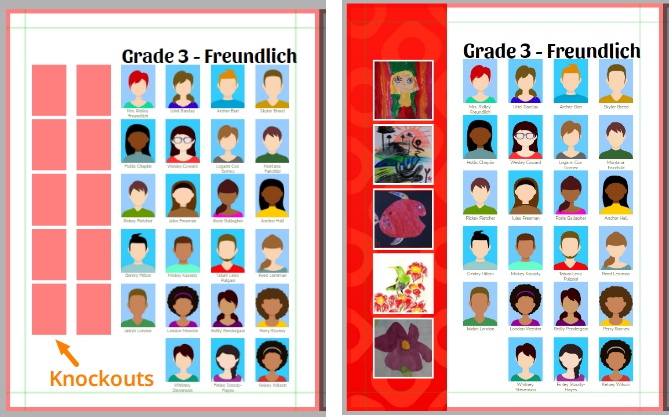 Creative Portrait Page Titles
Portrait page titles do not need to be autogenerated by the portrait tab. Decorative word art graphics may be used instead.
To clear space at the top of the page, use the editor's portrait tab. Turn on the title, then select the text in the title contents box. Replace The text with a space (hit your spacebar on your keyboard).

Add a standard text frame in combination with graphic embellishments – rotated, and positioned out of direct alignment with the grid.


Page title graphics may be used anywhere on the grid. Use margins and knockouts to create extra room if required.
Word art graphics for portrait pages are available under Memento's Elements tab – scroll down to the Headers collections.
The Studio Source Catalog includes a collection of Letters & Numbers graphics under the Decorations area. Build your own title graphics one character at a time.
Shapes and Decorations
Use a simple tinted shape frame to create color blocks on a portrait page.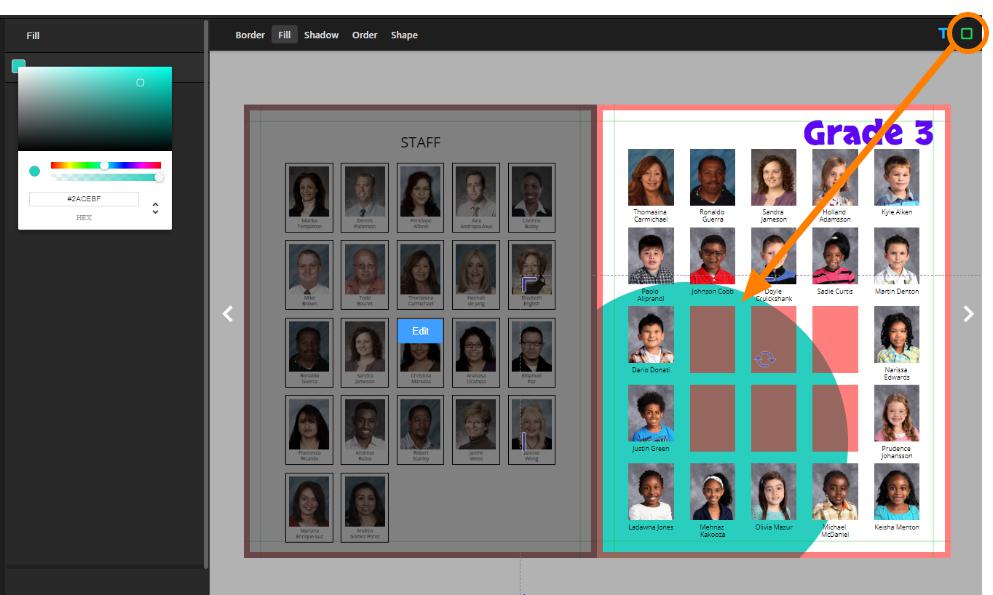 Use Memento's Elements tab to find decorative embellishments. In addition to traditional clipart, look at Shapes and the Paint Blobs, Splats and Strokes for elements that may be custom-tinted under the Image FX tab.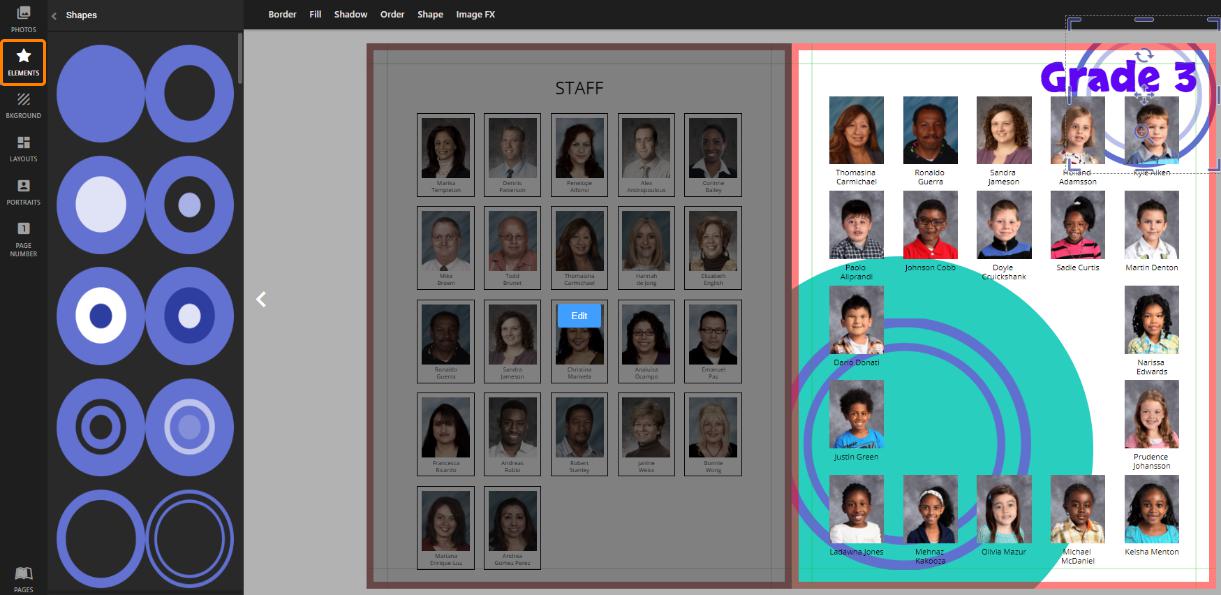 Photos may also be added to a portrait page, in an empty area at the bottom or in a knockout. Ask the homeroom teacher for a few in-the-classroom pics, or use student art.