Community Photo Albums provide a way to receive photos safely from members of your school community who are not working directly on the yearbook. Photo contributors may upload images securely on any internet connected device (computer, tablet, phone). Their uploaded images may then be reviewed by Editors & Editors-in-Chief to transfer to yearbook photo albums for use in the book.

The following video provides an overview of how to use community albums:
The Community Album Password
Due to the child online safety rules, community photo albums are password protected. Editors and Editors-in-Chief may set up community albums.

Click on Community Photo Albums on the left side of the book manager to start the setup process.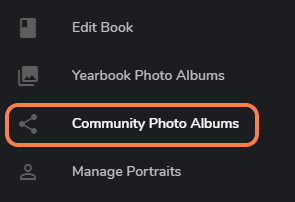 To set the password. click on Setup Community Photo Albums.
Create a password for guests to access community photo albums. To ensure password security, include a mix of upper and lower case letters, as well as at least one number and one non-alphanumeric character. A short phrase will make it easier to remember, eg: Yearbooks4us! or #ValleyESis2awesome.

Be sure to write down your password in a safe place – you'll need to provide this password to anyone uploading photos to the community albums.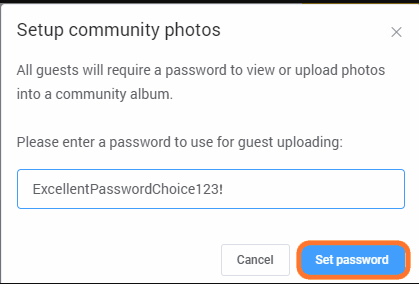 Resetting the Password
If the password is forgotten or needs to be changed to block access to the albums, it may reset by an Editor or an Editor-in-Chief. Click on the right-corner dot menu dots to choose Reset Password.

Type in a new password, then be sure to send an update message to anyone who needs access to the community albums.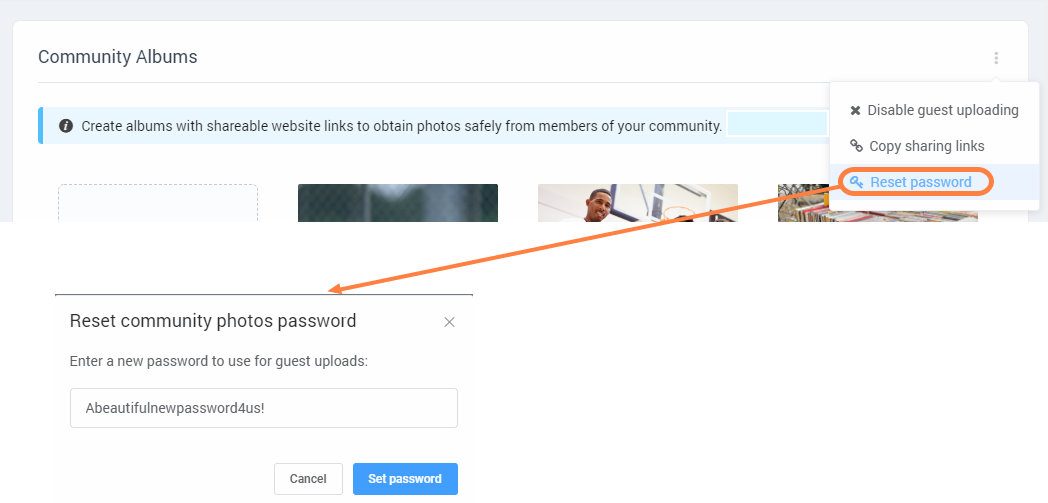 Creating a Community Album
Create albums specific to events or yearbook sections to help organize your photos.

To add a new album, click on the +New Album button.



Give the album a name, then click Add Album.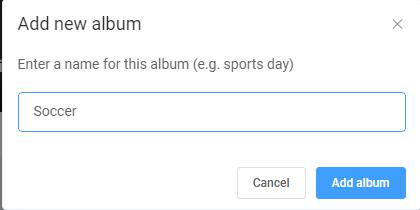 The newly created album will appear in alphabetical order. The album cover will be black until a photo has been uploaded into the folder.
Sharing the Community Album Link
Each community album has its own website address. The album website addresses may be copied individually or all at once, to be sent by email or text message to invite staff, parents and students to upload photos for use in the yearbook.

To share a single album link, hover over an album, then access its top right corner menu. Choose Get Shareable Link.

When the link appears, click Copy Link. You may paste the copied text into an email or other message.



To share multiple links, click on the section menu of the community photo albums area. Click on Copy sharing links.




Click the first Copy Link button to copy all album links.

You may also select individual albums, one at a time, should you need to send a few links in a single message.

After clicking one of the Copy Link buttons, paste the copied text in an email or a message to send to your photo contributors. Repeat for each individual link.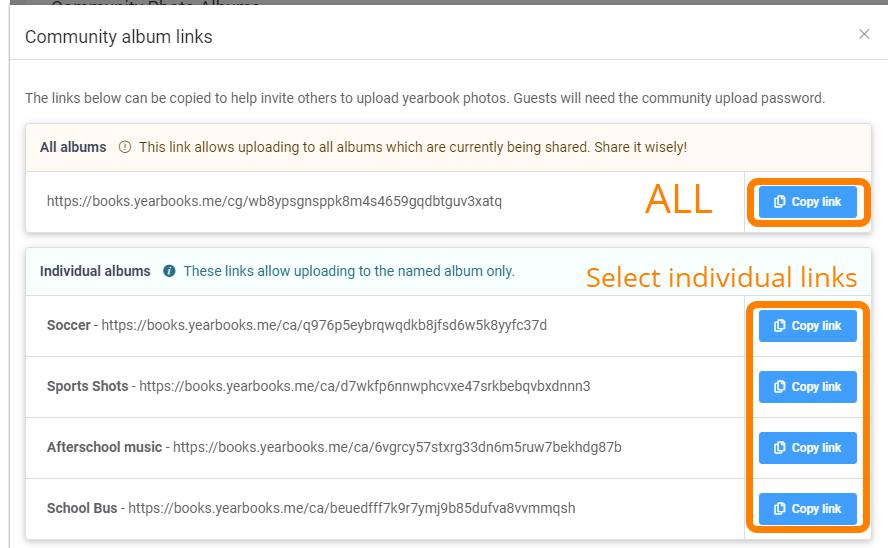 Important! Be sure to send the community album password in your message, or the recipient will not be able to get into the album to upload their photos.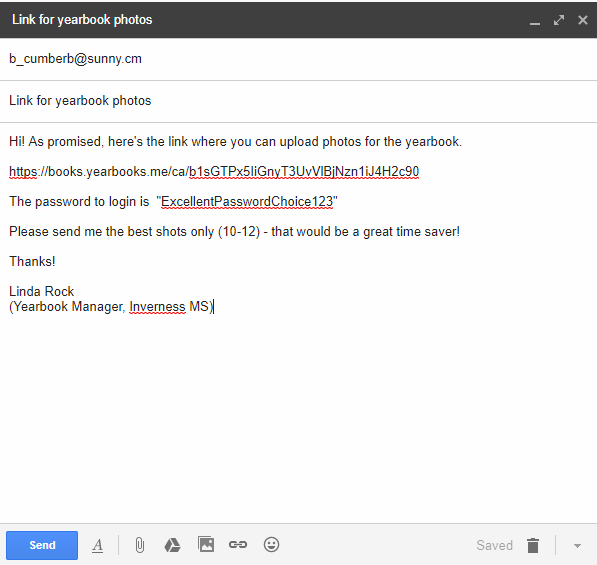 When the recipient of your message clicks on the link, they will be prompted to enter the password.

They will then see either a single album or all the albums, depending on the link that was sent to them. Clicking into an album will enable them to upload photos from any internet connected device.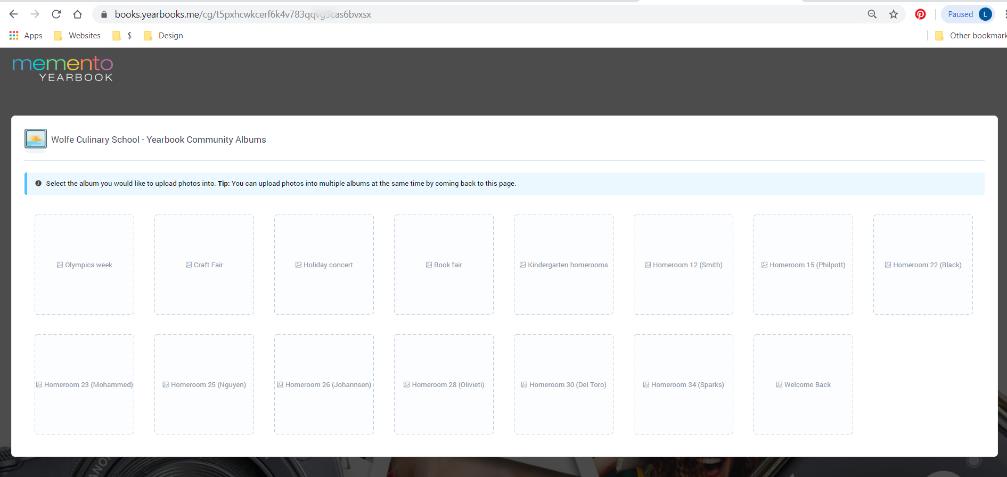 Note that community albums only display photo thumbnails during a single web upload session. The folders do not show preview images, and will not show other photos uploaded in previous sessions for reasons of child online privacy.
Using Community Photos in Your Book
To use photos in your yearbook, you must move them out of the community album into a yearbook photo album. This step is required due to child online privacy rules – to ensure that all photos have been vetted by a senior member of the yearbook team.
Learn how to move images between albums in the Image Management Article.
Renaming Community Albums

To rename a Community Album, hover over the album to access its menu. Choose Rename, type in the new album name, then click the Rename Album button to finalize the change.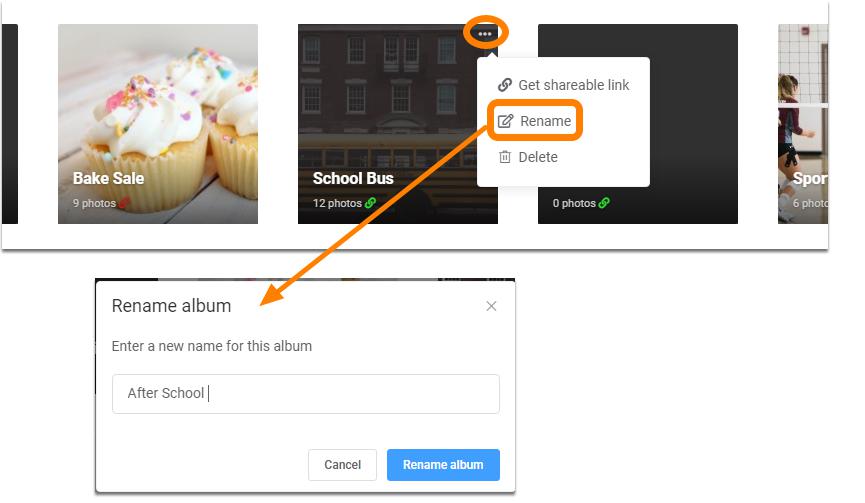 Disabling Uploads

Community albums display their active link status and the number of images in each folder.

Album links by default are on, enabling photo uploads.

The links may be turned off if there is a submission deadline or too many images have been received.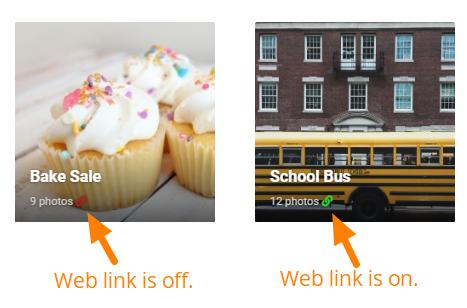 To turn an individual community album, access its menu, then choose Get Shareable Link.

Turn off the Link Sharing toggle.

No further uploads may be made to this album.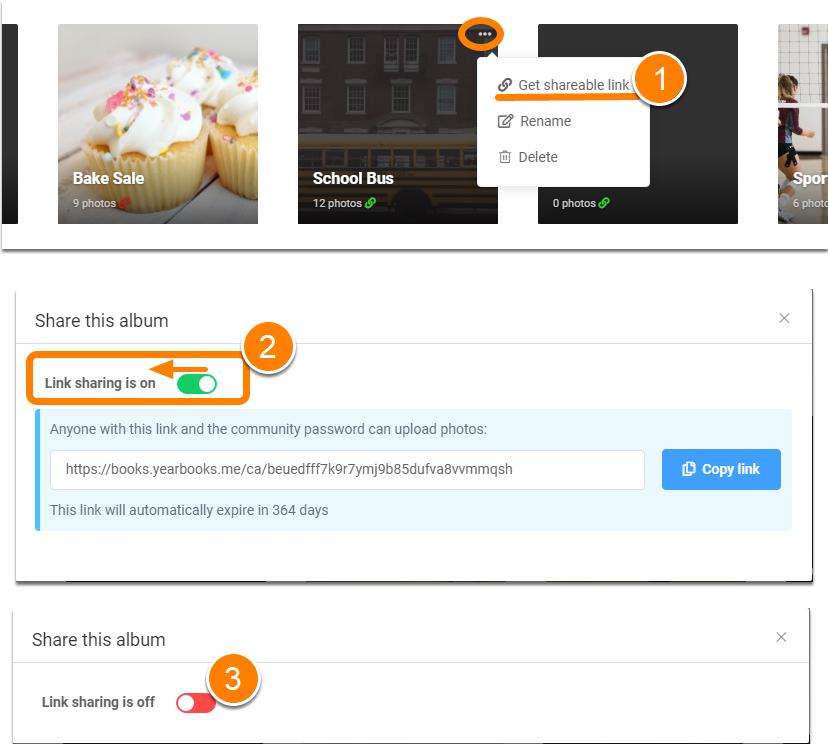 To turn off all uploads, click on the menu icon in the community albums area, then select Disable Guest Uploading.

All albums will be deactivated for future uploads.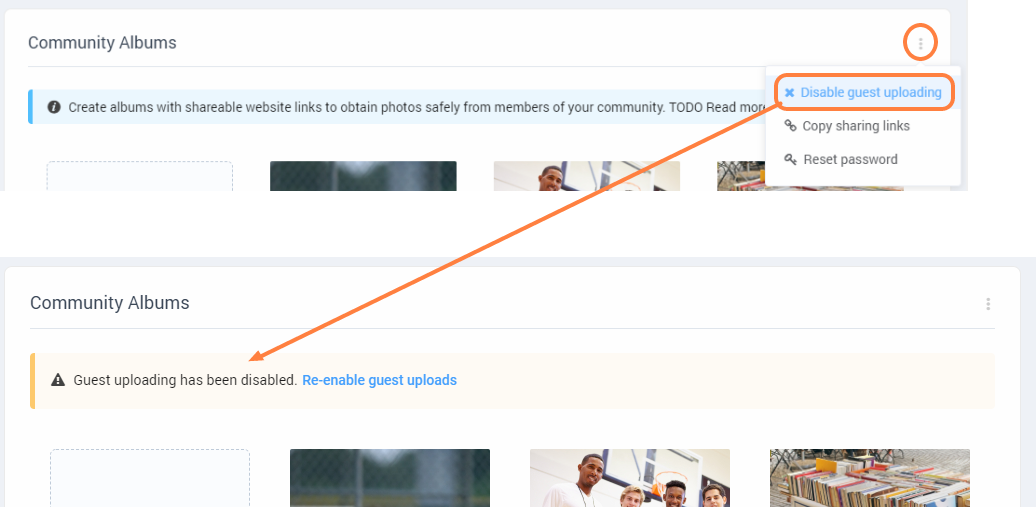 Deleting Community Albums

To delete a Community Album, hover over the album, click on its menu icon, then choose Delete.

The album and its contents will immediately vanish.