Page Quantity & Numbering
Page Number Limits
When your yearbook project was created in Memento Yearbook, it was assigned a book product, which consists of cover type and a page number range.
Under the book ladder, you will see the maximum number of pages allowable under selected book product, as well as the current number of pages created on the book ladder.

Note that your school's contract with your studio will stipulate an exact number of pages for the completed yearbook, which may be less than the maximum number displayed in Memento.
Primary account contacts who have access to the Studio Source Dashboard may check on their project's contracted number of pages under their book profile information.
Contact your studio rep to learn more about your maximum number of pages and cover type, or to request a change to either setting.
Page Number Preview
The book ladder and page editor show a page number at the bottom of each page. These numbers are simply for display purposes, to assist navigation through your book.
Printed Page Numbers
Printed page numbers are useful in larger books which include a table of contents. Printed page numbers are not required nor particularly necessary in smaller books that are easy to flip through.
Editors-in-Chief may add and then customize page numbering that will appear in the final printed yearbook.

To add printed page numbers, open any page in the Page Editor then check the book out.
Click on the Pages Number tab, then turn on page numbering. A number will appear in the bottom corner of all pages, accurately showing where the page number will appear and how it is formatted.
Set your page number position either at the bottom edge or center of the page.
Access the page number's styling options by clicking directly on any page number.

Adjust the font, size, and shadows.

Changes made will be applied to all page numbers in the book, as per-page customization is not yet available for page numbering.
When the changes are complete, Check In the book. Your page numbering preferences will be saved.
To restart the customization process, turn page numbering back off, then on again. The default page numbering will be reset.
Styling Tips for Page Numbers
Page numbers have a consistent style throughout the entire book, which may lead to visibility issues when placed on different types of backgrounds. Dark page numbers will not show up on dark backgrounds, for example, and busy textured backgrounds and photos under the page numbers will make them difficult to read.
To make your page numbers stand out on every page, try one of the following ideas…
Shadow
Turn on the page number's text shadow, set to a color that contrasts to ther page number itself. Turn the blur to 0, keep the shadow depth value low, and set the angle as you like. The page number will be visible on any color background with the contrasting shadow mirroring the text.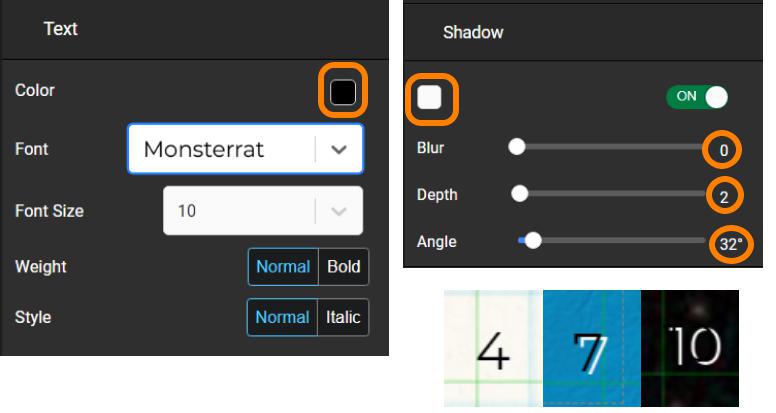 Color Blocking
If you really want to make your page numbers stand out and don't mind taking the time to fuss with design, add a shape or a plain clipart under the number. Note that you will need to copy, paste and reposition your shape or element on every page in the book!